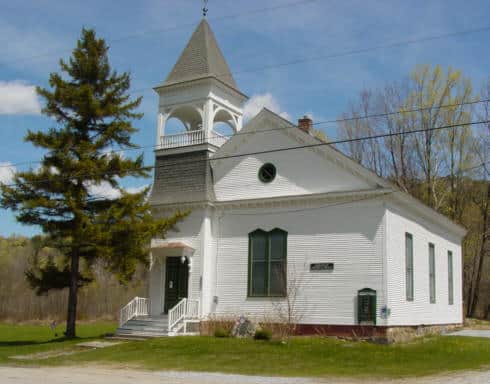 The Shrewsbury Historical Society Museum
Located in the former Cuttingsville Church on Route 103 in the heart of Cuttingsville.
Museum Plans
The museum will remain closed until we get the "all clear" from the state. We normally welcome tourists from other states all summer and it would not be fair for our volunteers to staff while there is still danger of a recurring virus. If there is need to visit for research, please call 802-492-3324 for appointment. The mask and social distancing rule should be respected. ~Submitted by Ruth Winkler
On display are 19th century Shrewsbury artifacts including furniture, costumes, photographs, books, diaries, toys and more. The collection also includes video and audio tapes of townspeople and special events, and current Shrewsbury history in scrapbook form.
The history book, "Shrewsbury – Our Town As It Was" is available in soft cover for $20. It can be found at the Town Clerk's Office and Museum during hours. Or by mail, add $6 for postage and handling and send your name, address and check to: Shrewsbury Historical Society, 5419 Route 103, Cuttingsville, VT 05738
Appointments to visit the museum can be made by contacting the secretary at 492-3324, e-mail: [email protected], or visit us at: www.shrewsburyhistoricalsociety.com.
The Historical Society meets at the museum on the third Tuesday of the month at 7 p.m. from May to October.